Organising my music library
I like music and I listen to all kinds - I'm not tied to a particular genre. While the 2nd half of the 20th century (1960s - 1990s) may have given us the best music and artists, there's no shortage of new talents around the world today, and thanks to services like Colors, Kexp and Hype machine, it has become quite easy to discover these new talents and music whether they play the music of Mali or live in Tuva.
Until a few years ago, I kept my own music and meticulously edited all the metadata to my own liking before uploading to my Google Play Music locker, these days however, I use Apple Music and only upload songs not available in the Apple store.
So how does someone like me who has an eclectic taste in music make sense of his extensive music library, especially when there are over two thousand music genres out there. Rock, for example, has over 200 sub-genres. It also doesn't help that songs in the Apple Music store are assigned wrong genres all the time. 1
The first step to managing my library is to simply group together similar sounding and overlapping genres, I use grouping and smart playlist to achieve this in Apple Music.2
Grouping
I create a grouping metadata for most songs in my Apple Music library, this way I can focus on a few "super genres" instead of having to deal with hundreds of genres.
For example, I assign a ROCK-GROUP grouping to this AC/DC song, and to all my Rock type songs: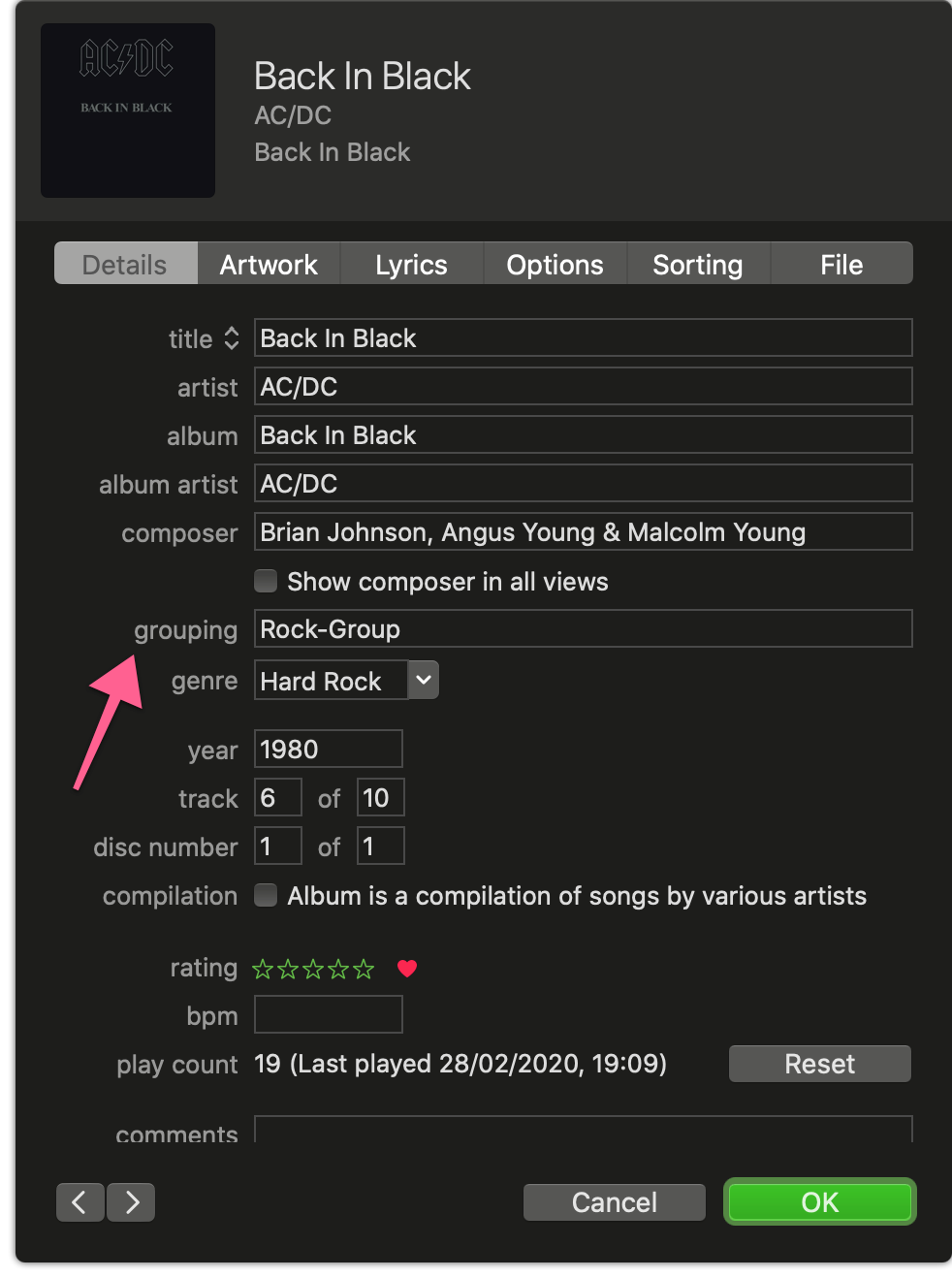 I can then create a smart playlist based on that "grouping" label:

Lastly, I use this smart playlist to track songs that do not belong to a "grouping" yet

Smart Playlists
I create a smart playlist to auto-group all the related genres into a playlist, this method is easier because I don't need to individually edit songs metadata.
For example, the rule below will create a Rock-Group super genre playlist for me:
Below are my major genre playlists:
Rock: Rock, Soft Rock, Hard Rock, Alternative, Metal, Punk, Experimental, Post Wave, Emo, Funk, Metalcore

Blues: All Blues (Electric, Delta, Chicago, Britich etc), Blues Rock

R&B: R&B, Soul, Doo-Wop, NeoSoul, Urban Contemporary

Country: Country, Bluegrass, Country Rock, Americana

Jazz: Jazz, Vocal, Post Bop, Swing, Free Jazz, Smooth Jazz, Boogie Woogie

Afro Modern: Afrobeats, Afro Soul, Afro Pop, Afro dancehall

Afro Classic3: Afrobeat, Afro-rock, Juju, Highlife, Apala, Malian Folk

Rap: Hip Hop, Rap, East Coast, West Coast, Britcore, Grime, Latin Rap, Gangsta Rap, Trap

Pop: Pop, Dance, Electronic, Singer/Songwriter

Reggae: Dancehall, Ragga, Reggae, Ska, Dub, Roots, Rocksteady, Reggaeton

† While I listen to all kinds of music, I do have a few favourites: Jazz, Rock, Afrobeat 4, Metal, Juju, Blues, R&B, Neo-Soul, Folk, Country, Rap and Dancehall, in no particular order.
---